'It is unlikely it was used as an everyday jewellery piece. I believe this beautiful and very fragile bracelet was worn only for some exceptional moments.'
The bracelet was found inside the famous Denisova Cave, in the Altai Mountains, which is renowned for its palaeontological finds dating back to the Denisovans, who were known as homo altaiensis, an extinct species of humans genetically distinct from Neanderthals and modern humans.
Made of chlorite, the bracelet was found in the same layer as the remains of some of the prehistoric people and is thought to belong to them.
What made the discovery especially striking was that the manufacturing technology is more common to a much later period, such as the Neolithic era. Indeed, it is not clear yet how the Denisovans could have made the bracelet with such skill.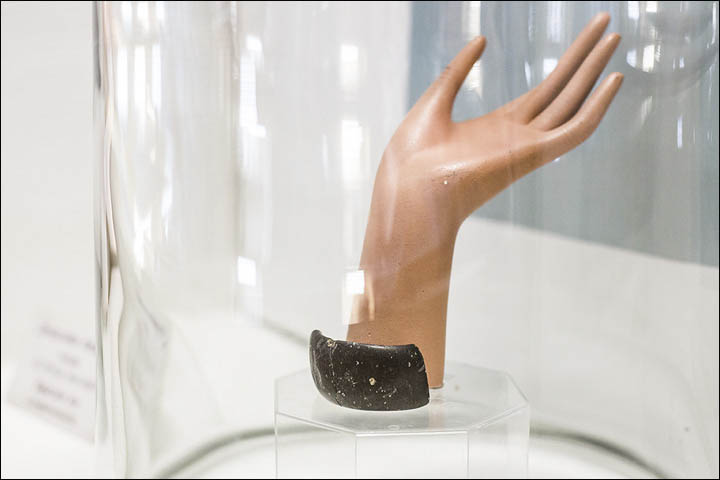 Writing in the Novosibirsk magazine, Science First Hand, Dr Derevyanko said: 'There were found two fragments of the bracelet of a width of 2.7cm and a thickness of 0.9 cm. The estimated diameter of the find was 7cm. Near one of the cracks was a drilled hole with a diameter of about 0.8 cm. Studying them, scientists found out that the speed of rotation of the drill was rather high, fluctuations minimal, and that was there was applied drilling with an implement – technology that is common for more recent times.
Traces of the use of drilling with an implement on the bracelet from Denisova Cave. Polished stone bracelet of the Neolithic era. Pictures: Anatoly Derevyanko and Mikhail Shunkov, Vera Salnitskaya